School News
---
Kemchido Combat Arts Board and Technical Advisory Board Announced
November 17, 2015
We are pleased to announce the following instructors named to Professor Duncan's Kemchido Combat Arts Board and Technical Advisory Boards.
Kemchido Combat Arts Board:
Founder/President:
Rudy Duncan, 10th Dan
Vice President:
Jesse Dwire, 7th Dan
Board Members:
Bruno Daniele, 5th Dan
Ed Peck, 4th Dan
Paul Darrigo, 4th Dan
Robert Fritz, 4th Dan
Robert Sack, 3rd Dan
Brian Marshall, 3rd Dan
Sharon Reboy, 3rd Dan
The Kemchido Combat Arts Technical Advisory Board is made up of Grandmasters and Master Instructors with an extensive knowledge and experience in the martial arts. This Board assists the President/Founder in developing guidelines for best practices within the organization to ensure a safe and fun learning environment.
Kemchido Technical Advisory Board Members:
Shihan Jesse Dwire
Guro Dan Donzella
Master Ken Swan
Sifu Chad Donzella
Master Bruno Daniele
Sifu Ed Peck
---
Grandmaster Rudy Duncan Inducted into IKCG Hall of Fame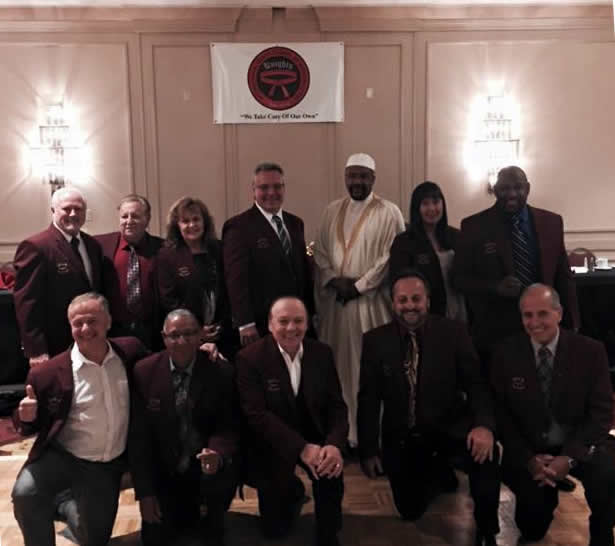 June 20, 2015 - Marlbourough, MA
Duncan's Martial Arts Academy and Chunjido International is proud to announced that Grandmaster Rudy Duncan was inducted into the International Kempo Council of Grandmasters Hall of Fame on June 20, 2015 in Marlbourough Mass. Grandmaster was especially honored by his long time student Shihan Jesse Dwire who gave the induction speech. Grandmaster Duncan also was presented the rank of 10th Dan by the International Kempo Council of Grandmasters.
We would also like to extend our congratulations to all the Inductees this year!
---
Sifu Ken Swan Promoted to 5th Degree Black Belt, Master Instructor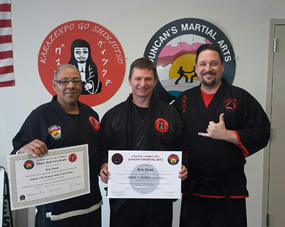 We are proud to announce that on March 7th, 2015 Sifu Ken Swan, owner of Swan's Martial Arts Academy, was promoted to the rank of Godan - 5th Degree Black Belt, Master Instructor in the arts of Karazenpo Go Shinjutsu and Kemchido Combat Arts. Sifu Swan tested before the Testing Board made up of Professor Rudy Duncan, Sifu Dan Donzella and Shihan Jesse Dwire IV. Sensei Brian Marshall, Chief Instructor - Eden Recreation Family Karate Program, generously gave his time and efforts as his testing and demonstration partner.
Sifu Swan has been a long time student of Professor Duncan and Sifu Donzella. He is the owner of Swan's Martial Arts Academy in Buffalo, NY which he opened in August 2004. Prior to that he was the Chief Instructor of the Buffalo-Niagara YMCA Kempo Karate Program and oversaw a Niagara University Student run program, started by Shihan Jesse Dwire.
Karazenpo Go Shinjutsu Black Belt Society
The Karazenpo Go Shinjutsu websites, www.kgsbbs.net and www.karazenpogoshinjutsu.com are completing their redesigns. Information about the KGS BBS will be available on these sites as well as shared on this site.
Ninjutsu instruction now available at Duncan's Martial Arts
We are pleased to have fine instructors sharing their arts and offering training opportunities at Duncan's Martial Arts. Sensei Lance Kellog will be providing ninjutsu instruction. Please contact the school at (315) 431-0125 or see the school schedule for class times and days.