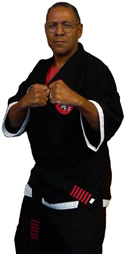 Professor Rudy Duncan began training in the martial arts in 1961, studying Tae Kwon Do in Syracuse, New York. In 1969, Professor Duncan switched styles, studying Shorin-Goju karate until 1978. At this time, he began training in Shaolin Kempo, first under the Fred Villari system and eventually with Nick Cerio's organization. Professor Duncan's instructor was 8th degree black belt, Professor James Bryant of Masters Self Defense Centers. He teaches Karazenpo Go Shinjutsu Shaolin Kempo in Syracuse, New York. The lineage of this art runs through Nick Cerio, and Grandmaster George Pesare to it's founder, Grandmaster Victor "Sonny" Gascon.
Professor Duncan continues to train with many of the martial artists in the Central New York area. He also encourages instructors of other styles to guest teach seminars at his dojo. Area instructors such as Sifu/Guro Dan Donzella have been frequent guests at Duncan's Martial Arts Academy. This has led to a diverse martial arts knowledge base which Professor Duncan draws upon to provide his students with the best possible training.
Professor Duncan has also conducted numerous community based seminars on youth violence. As a certified social worker, he has published several articles outlining strategies for teaching troubled youth. He has also written articles discussing methods for teaching karate to youth with special needs such as attention deficit and hyperactivity disorders.
He also devotes many hours to various community organizations. Professor Duncan has taught tai chi to a group suffering from Multiple Sclerosis through the MS Society. Professor Duncan has also led the development of an instructors manual to insure that things are taught in a consistent manner and that students understand the importance of history.
Professor Duncan's relaxed teaching style and sincere dedication to the martial arts have combined to make Duncan's Martial Arts Academy one of the most respected dojos in the nation.
On October 26, 2004 Professor Duncan was personally promoted to the rank of 6th Dan in the art of Karazenpo Go Shinjutsu and declared SiGung Duncan by Grandmaster Victor "Sonny" Gascon.
Professor Duncan recently presented his own concepts and curriculum for a system of his own called, Kemchido Combat Arts. Using his knowledge of the arts he has studied along with the strong base of movement principles found in Grandmaster Gascon's Karazenpo Go Shinjutsu, his art has been recognized by the several multi-disciplined martial arts organizations. This art was also created with the full blessing and support of Grandmaster Gascon and Professor Mike Rash.
On June 22, 2019, Professor Mike Rash, Head of the Karazenpo Go Shinjutsu Black Belt Society, with the blessing of the Late Great Grandmaster Gascon was promoted to 8th Degree Black Belt and given the title of "Professor" in Victor "Sonny" Gascon's Karazenpo Go Shinjutsu system.
Professor Rudy Duncan has been awared the following honors and awards:
2019 Promoted to the rank of Hachidan, 8th Degree and given title of "Professor" in Victor "Sonny" Gascon's Karazenpo Go Shinjutsu
2015 Grandmaster Duncan inducted into the International Kempo Council of Grandmasters Hall of Fame
2015 Awarded the rank of 10th Dan in the art of Kempo Karate by the International Kempo Council of Grandmasters
2011 Soke Rudy Duncan inducted into the Action Martial Arts Hall of Fame- Lifetime Dedication to the Martial Arts
2010 Soke Rudy Duncan invited to participate as a Coach for the U.S. National Martial Arts Team
2010, April awarded the title of Soke by World Organization of Marital Arts.
2009 SiGung Rudy Duncan - New York State Director of Chunjido International
2008 SiGung Rudy Duncan receives Doctorate of Martial Arts Philosophy, Ph.D. from the University of Martial Arts Studies
2005 Inducted into the World Martial Arts Federation, Hall of Fame - Master Instructor of the Year
2005 Inducted into the World Martial Arts Federation, Hall of Fame - Master Instructor of the Year
2003 Inducted into the USA Martial Arts Hall of Fame - Master Instructor of the Year
2001 Inducted into the United Stated Martial Arts Association Hall of Fame - Karazenpo Goshinjutsu Instructor of the Year